Take the Stress Out of Your Life!
-Holistic Approach Session [Holistic Aromatic Massage, Seitai(accupressure) and Foot Massage] available from an experienced and qualified Aromatherapy and Seitai practitioner

-Special counselling available, especially, to international students!

* Note (in Japanese): マッサージについて(日本法規) は 下記で 説明 しています。
About Seitai practice
There is no one specific definition of "Seitai".
However, as far as the Japanese-Kanji-character (the Chinese character) is concerned, the meaning of "Seitai", is "adjusting the body" and "adjusting the balance of the body".

In theory, Seitai improves the circulation of the blood; so the circulation of oxygen also improves; then, muscles, which need enough oxygen to cure muscle pain and/or muscular fatigue, will improve; the internal organs will work better etc.
As a result, the body can repair itself and maintain good.
In my opinion, the method of Seitai is used to help us to care for our own bodies. The body could ("should"?!) ideally cure itself for the best!

It is important to note that I, an Aromatherapist and a Seitai practitioner, am not a doctor.
Note: The words "massage" and "masseur", in world-wide understanding, are not in general usage in Japan. For preserving a specific occupation, Aromatherapy and Seitai are classified as "Massage" under the Japanese law.
About Practitioner
KEI ISHIHARA (LLM)
-Qualified as Aromatherapy Advisor and Instructor from the Aroma Environment Association of Japan (AEAJ)
-Attendance of 20 hours of lessons in 3 months in Holistic Massage at Treasham Institute in England
-Fully qualified in Seitai from Sogo Seitai Gakuin in Osaka, Japan
-A therapist fluent in English
-Experience in travelling all over the world and studying international public law in the UK
-Advice and support available on a wide range of issues
Message from my "holistic massage" teacher in England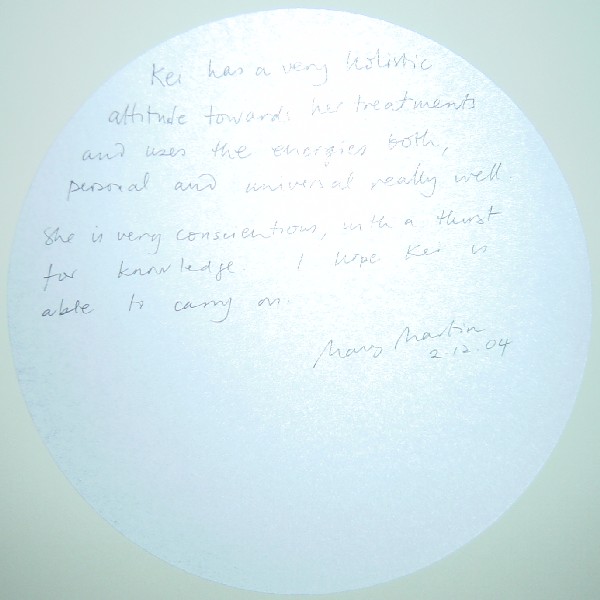 Kei has a very holistic attitude towards her treatments and uses the energies both,
personal and universal really well.
She is very conscientious with a thirst knowledge.
I hope Kei is able to carry on.
Mary Martin 2.12.04